NY1 News reports on a huge gaffe made by New York City Mayor, Michael Bloomberg at a street renaming ceremony in Queens Sunday.

The ceremony was in honor of astronaut Kalpana Chawla, who was killed in the space shuttle Columbia disaster in February 2003. The mayor mentioned what he thought was his encounter with her at last summer's Indian Day Parade.

"Kalpana Chawla was a real nice person," said Bloomberg. "I mean, I just marched with her for 30 or 40 blocks and talked to her."

The problem is, Chawla died several months before the parade, and it was in fact another Indian American astronaut who he was walking with, Sunita Lynn Williams.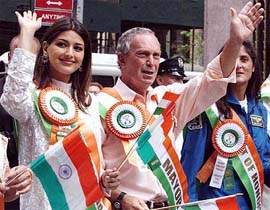 Williams is on the right of Mayor Bloomberg, on the left is Bollywood Actress Sonali Bendre.