Mira Nair to Direct Hollywood ReMake of Munnabhai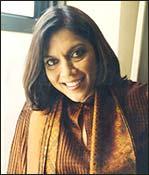 In a weird twist on the usual east borrowing from west, especially with regards to film, Hollywood is now borrowing from Bollywood for one of its films, and one of DESIBLOG's favorite director's has been chosen to make the film--Mira Nair.
Believe it. The trade publication
Daily Variety (Subscription required)
has announced that Mira Nair will be directing Gangsta MD, the Hollywood adaptation of
Raju Hirani's mega Bollywood hit -- Munnabhai MBBS
. Mira Nair has teamed with "
Bringing Down the House"
scribe Jason Filardi on "Gangsta M.D.," a Bollywood remake that's been set up at 20th Century Fox.
The story focuses on a low-level gangster who keeps his criminal life a secret from his mother by telling her he is a medical doctor, what else? When his mom discovers his criminal lifestyle and threatens to disown him, he's forced to do the one thing that would make her proud: become a doctor.
The original film was 2003's Hindi-language blockbuster "Munna Bhai, M.B.B.S." A second version was produced this year, "Shankar Dada, M.B.B.S.," which was essentially the same film shot in India's Telugu language.
In a first for Bollywood, Fox bought the script rights for the Hindi film earlier this year, and Chris Rock's name has been mentioned several times during initial speculations. Gangsta MD is expected to hit movie halls in early 2005.
Here is the
rediff.com
story summarizing the Variety article.